Demolition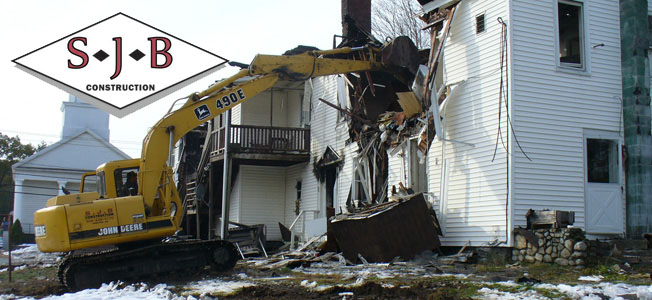 We're keeping it clean
Homes & residential buildings
Commercial buildings
Barns
Whole or partial
When we demolish a building of any size or type, you will be left with a clean site. Customers across Central Massachusetts and beyond have called on SJB Construction for building demolition services when faced with:
Building replacement
Fire Damage
Contamination
Lot clearing
 We are not taking shortcuts on building demolition. We work with licensed waste haulers according to the nature of the structures we remove. We make sure permits are in place and building inspectors have certified our work.
Foundations are typically filled so there is no danger left behind. If rebuilding on the same foundation is contemplated we will leave the area open and clean. When we handle building demolition for any purpose, it has to be both clean and safe.
Building demolition in Massachusetts
We work the same way anywhere in Western Worcester County as we would in our own backyard. We go to the City of Worcester and beyond, although much of our work is in nearby towns of Charlton, Dudley, Southbridge, Sturbridge, Oxford, East Brookfield. But talk to us about any site for building demolition in Massachusetts.
Speaking of backyards, when you talk to us about building demolition it's a good time to talk about your vision for the property as well. New foundations or drainage, resloping or landscaping preparation – one-stop shopping with a multi-service contractor like SJB Construction makes good sense to help you see that vision through.