Tree Stump Removal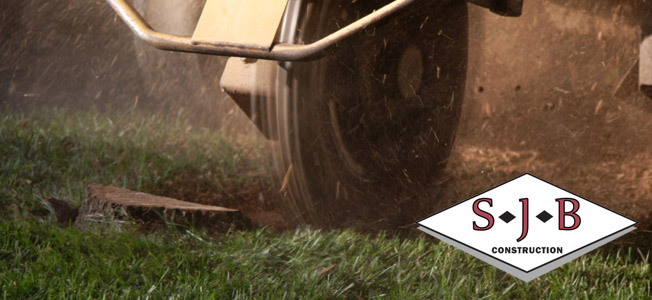 Tree stump removal and stump grinding
SJB Construction of Charlton takes on any size lot when it comes to tree work and stump removal, with efficiency and surgical precision.
You want site preparation to transition from wooded to wide-open for development?  No problem! We'll clear the lot and grind the stumps.
Just looking for a little more sunlight or removal of a stressed tree? If you've already developed your lot, call is in for tree service, stump removal and beyond.
SJB Construction has the experience and the right equipment to work very close to existing homes, buildings, septic systems or pools without doing them harm.
We'll grind stumps of any size — well below ground to allow worry-free development or further excavation as necessary. With the stump removed, the area is ready to expand your lawn or decorative plantings in smooth, rich soil.
We've done it all, big and small, across Central Massachusetts.
Let us look over your lot and help you create the vision, or new vision, that you have in mind.
---
Worcester-area residents: SJB Construction Inc. is a licensed contractor for tree removal under the Massachusetts Asian Longhorned Beetle Cooperative Eradication Program.